Alright. I'm sick of googling "small functional entryway" and seeing this nonsense: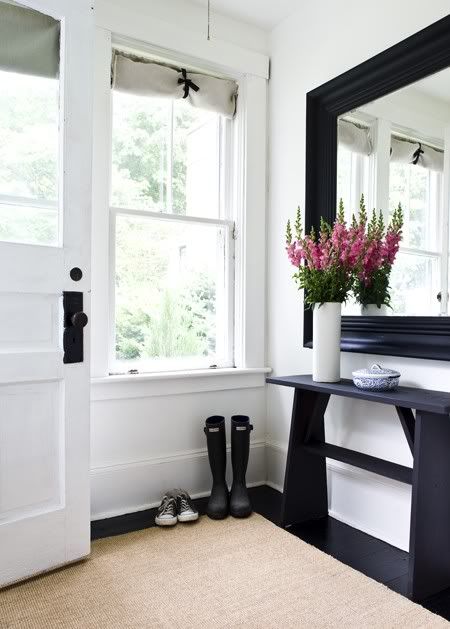 First of all, that ain't small. And what magical family has just two pairs of shoes and a ceramic vessel in their entryway?? I'm Korean and my roommate is Vietnamese and our entryway needs to work WAY harder than this. I'm talking Size 13 shoes (his, obviously) and mail and packages and puppy paraphernalia and a mirror and keys. Not to mention it's tiny (3.5 ft x 6 ft) and the front door swings INTO it and it all leads into a real narrow hallway.
No wonder it looks like this at the moment:
Sad and random; somehow sparse and cluttered at the same time. In other words, FAIL. After six months of living with this disfunction, this area is next on my DIY list. And since I've never been a just-do-it kinda gal, I had to round up some helpful inspiration first.
Lots of shoe storage~~This Ikea piece doesn't fit in our entryway, but it does hold tons of shoes and the top can stash keys and coupons and such~~via IHeart Organizing 
Organized space for mail~~Mounting Ikea desktop organizers to the wall as small, functional shelves is kind of genius~~via ApartmentTherapy 
Customizable, vertical storage~~Installing a shelf or rails like Ikea's Grundtal kitchen wall storage system would add much needed (albeit inconvenient for 4'11" me) storage~~via Better Homes and Gardens
Personalization~~Love the idea of using pictures to assign cubbies to members of your family~~ via Ikea Hackers
EVERYTHING!~~This one has everything: shoe storage, hooks mirror, containers to hold odds and ends, a place to sit and a runner to provide impact~~via Apartment Therapy